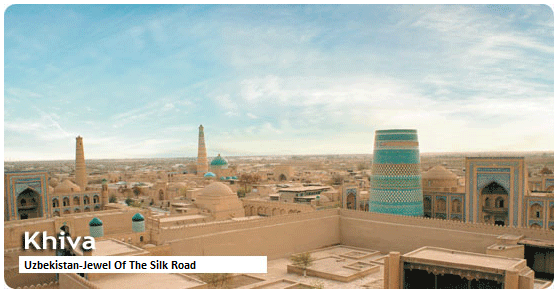 Uzbekistanís Silk Route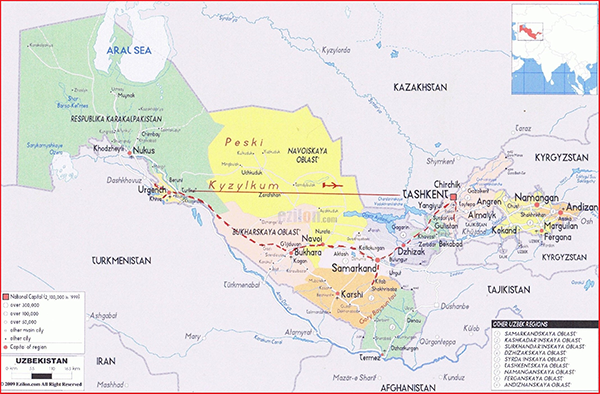 Your classic journey through Uzbekistan will start in Tashkent, a beautiful park filled city and continue on by land through the magnificent Unesco World Heritage towns of Khiva, Bukhara, Samarkand, and Shakhrisabz. Along the way youíll enjoy the hospitable Uzbeki people, and stroll the colorful bazaars and markets. You will have ample leisure time at all stops for exploring on your own.
Day 1 Tashkent
Our 1st stop will bring us to the Hasti Imam, Tashkent's main religious complex with it's beautiful blue domed Mosque, Minarets and Madrassahs. the highlite here is what scholars believe is the world's oldest Koran, from the 7th century, in the Library of Ancient Manuscripts. It is on deerskin, inscribed in Medina (present Saudi Arabia) by Uthman, the 3rd caliph of Islam, 19 years after the death of Mohammed, It is in the
UNESCO World Register
. After lunch at the famous "National Foods" restaurant, we'll stop at the beautiful Assumption Cathedral complex. We'll also visit the Museum of Applied Arts, which will give us a great overview of Uzbekistan's arts, crafts and architecture from medieval times to the present.
Day 2 Tashkent
After breakfast we'll take in Tashkent's main market, the Chorsu bazaar. Overlooking the bazaar is the impressive Kulkedesh Madrassah and Friday Mosque. Next we'll tour Independence Square, with it's government buildings, adjoining park, and monuments. It was 1st named Cathedral Square to honor an Orthodox cathedral built here, then Red Square in 1917. In 1966 it was named Lenin Square, and finally Independence Square in 1992, with the country's independence.
After lunch on "Broadway", Tashkent's pedestrian street area, we'll stop at the Navoi Opera House and square, named after Alisher Navoi (1441-1501) Uzbek's most beloved poet, artist, scholar and scientist. Finally we'll visit the Tamerland (Emir Temur) museum. This small but beautiful museum will give us a great introduction of what we will see throughout our tour... Dinner ala carte at the famous Caravan restaruant.
Day 3 Tashkent-Samarkand
Today we drive to Samarkand. (
UNESCO World Heritage
) After our hotel check-in and lunch we'll tour Registan Square, Uzbekistan's most famous site. The square was the center and marketplace of ancient Samarkand and meant "place of sand". The Madrassahs of Ulug Bek (1420), Tillya-Kori (1660), and Shir Dor (1636) surround the Square and make it Central Asia's most noble, beautiful and breathtaking square.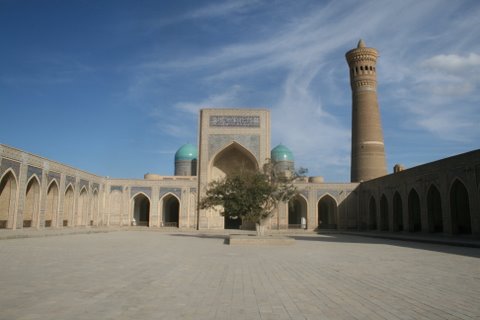 Day 4 Samarkand
We continue our tour today of Samarkand's other great sites. First the Gur-E-Emir Mausoleum (Tamerlane's and others final resting spot), The Bibi Khanum Mosque (built by Tamerlane in dedication to his favorite wife) which was at the time the world's largest and grandest mosque and the Shah-I-Zinda Neocroplis, with its many magnificently blue tiled mausoleums of Uzbekistan's "who's who" of centuries past.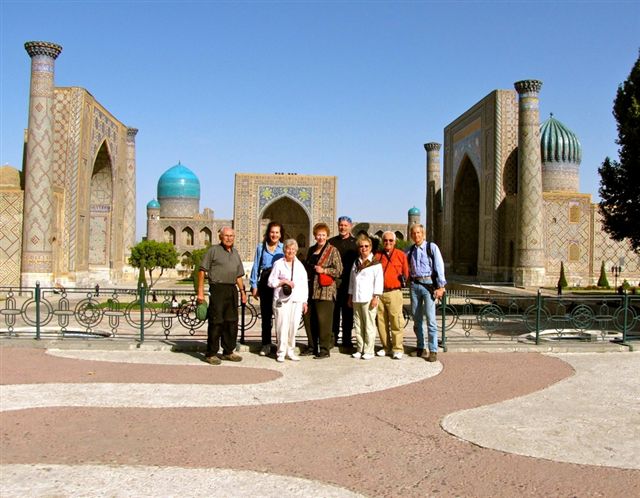 DAY 5 Samarkand-Excursion to Shakhrisabz
Today is an excursion to Shakhrisabz (UNESCO World Heritage). The great Tamerlane was born near here. We'll see the remains of Tamerlane's White Palace (Ak-Saray) built in the 14th C and other impressive blue-domed monuments of yesteryear. After lunch we return to Samarkand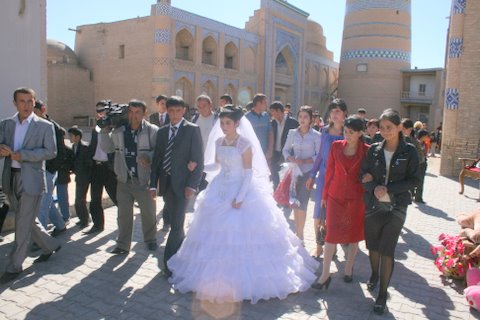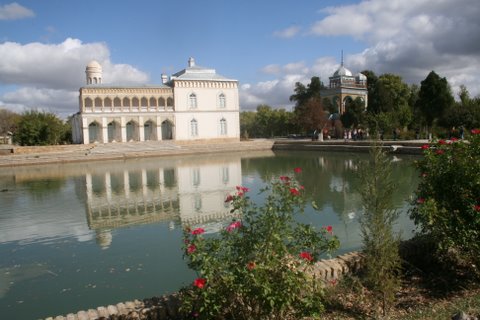 Day 6 Samarkand-Bukhara
After breakfast we drive to Bukhara
(UNESCO World Heritage)
. We'll have lunch by the famous Lyabi Haus pool, the true center of historic Bukhara. After lunch we'll check into our hotel, perfectly located inside Bukhara's "old city" There are no cars here, and with an introductory stroll, we can truly imagine ourselves walking through history in Bukhara's medieval splendor.
Day 7 Bukhara
We start our walk through history at the beautiful Lyabi Haus ensemble. Bukharans from ancient times to the present have benn meeting here for tea and everything else. The square is built around an ancient pool which is surrounded by 3 beautiful Madrassahs dating from 1417. A few steps away is the medieval synagogue and the Maghoki Attar (Central Asia's oldest surviving mosque). We continue our walk through medieval splendor to the Kalyan mosque and Minaret (the symbol of Bukhara), several other magnificient Madrassahs, the Ark Citadel, the Chasma and Samani Mausoleums and Bjukhara's famous covered domed markets, housing many world renowned skilled artisans.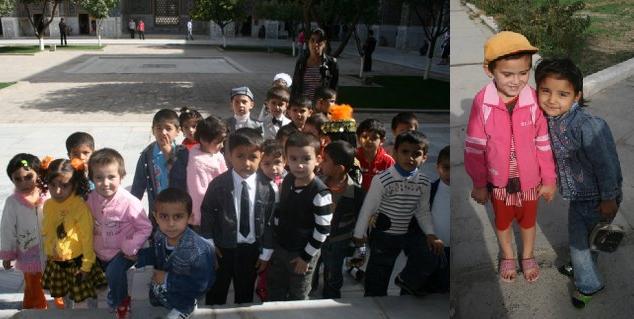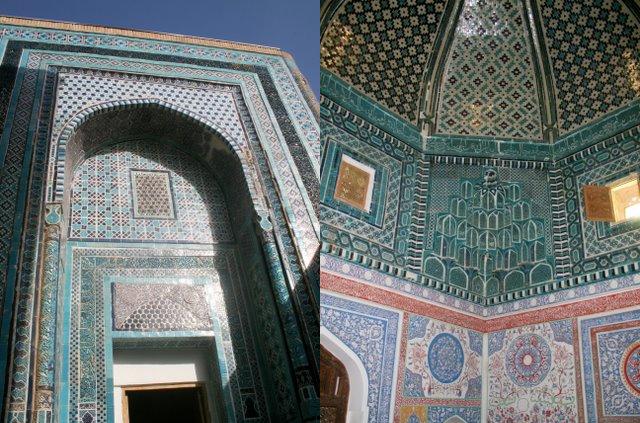 Day 8 Bukhara
We venture a bit outside of Bukhara today, visiting Bukhara's last Emir's Summer palace, the Sitori-Mohi-Hosa, Nearby is the beautiful Bahouddin Naqshband mausoleum and complex. Naqshband (1318-89) was the founder of the most influencial Sufi order of central Asia and he is the unofficial patron saint of Bukhara On returning to Bukhara, we'll have lunch, stop at the quaint Chor Minor and have plenty of time to wander Bukhara's markets.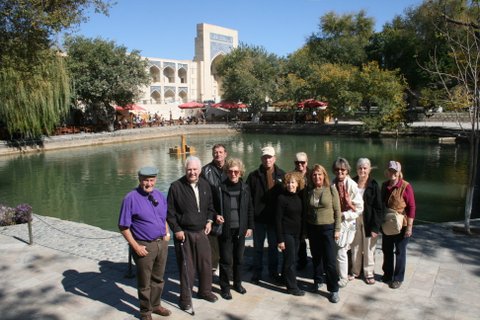 Day 9 Bukhara-Khiva
Today we drive to Khiva (
UNESCO World Heritage
) arriving late afternoon. After a pleasant lunch stop, we drive through desert terrain along side the Amu Darya river which is the border of Turkmenistan to the south. We relax and have dinner in the old town.
Day 10 Khiva
Our hotel is located in the historic quarter within Khiva's medieval walls which surround the town (the Ichon Kala). We tour the Ark Citadel, the palaces, the beautiful madrassahs, the harem complex, the famous Dzhuma Friday mosque, and Khiva's bazaars. Khiva though relatively small, is a living museum of medieval times and our time here will never be forgotten.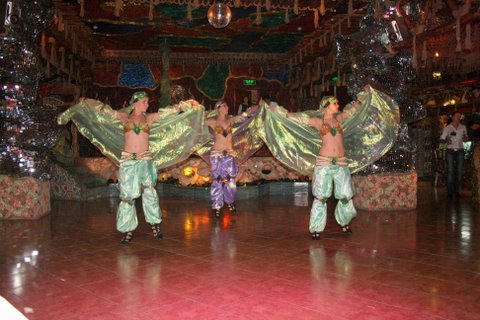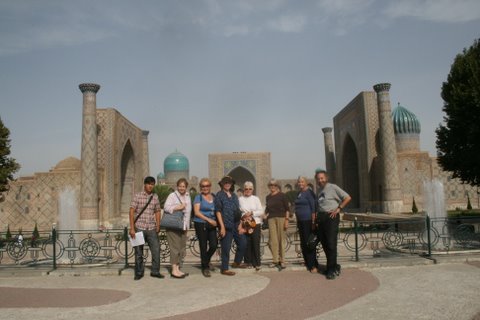 Day 11 Khiva or Nukus (for the Savitsky Museum)-Tashkent
Today is an option day. One may stay an extra day in Khiva to wander the great old town and markets and then take the evening flight back to Tashkent via Urgench
OR
one might take the optional side trip to Nukus for the great Savitsky Museum, founded by the avant garde artist and archeologist Igor Savitsky (1915-1984) -see "The Desert of Forbidden Art" (a documentary and CD) After visiting the museum one takes the evening flight to Tashkent via Nukus.
Day 12 Tashkent
Today is a relax day in Tashkent for last day shopping or perhaps returning to a favorite site. One may visit the Artisan center where many local artisans make and show their wares. We have a grand farewell dinner before our departure tomorrow.
Day 13 Tashkent-Departure
Transfer to the airport for onward flight